Shadaymona Jackson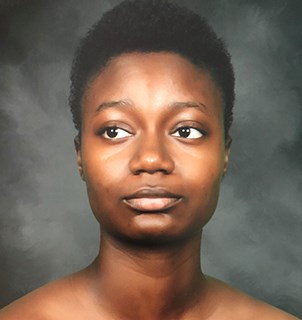 Name: Shadaymona Jackson
High School: Salem High School (Rockdale County)
College (Current or Future): Georgia Institute of Technology
Major/Intended Major: Biomedical Engineering
Financial Aid Program: Zell Miller Scholarship
The skies showed signs of rain but it held off, allowing Shadaymona Jackson to deliver her valedictorian speech at Salem High School in conditions as bright as the future of her entire graduating class.
"We stressed this entire week because of storms in the forecast," Jackson said those in attendance at Seminole Stadium in Conyers, "(but) your hard work and dedication is the reason why we were able to weather the storm."
Jackson's hard work was rewarded with the Rotary Senior Award for Art, multiple Superintendent's Academic Awards and ultimately, the Zell Miller Scholarship.
"My high school's team of counselors and college advisors informed me about this opportunity and my teacher (Tapetress Ford) pushed me to apply to college," said Jackson. "At one point, I didn't want to go to college. I wanted to stay home. Somebody had to come to me and say you need to do this now, the deadline is close. (Ms. Ford) did that. And I ended up getting into my favorite college – Georgia Tech."
Jackson plans to pursue a degree in biomedical engineering with a specific purpose in mind.
"I chose this so I can build prosthetics for people who are challenged," Jackson said to the Rockdale Newton Citizen. "I want to combine the sciences and arts to create something different."
Thanks to the Zell Miller Scholarship, Jackson has a different mindset about the potential costs of her college education.
"Being an award recipient has allowed me and my family to ease our minds," Jackson said. "Working a part-time job while attending a university could become stressful, so having this award has allowed me to not worry as much as I would have without it."
Jackson advises students not to worry about taking their next steps after high school.
"It can be scary at first, but once you realize that you are not alone and there are many resources to help you, getting ready for college can be one of the most exciting things you do."