Ariana Hatcher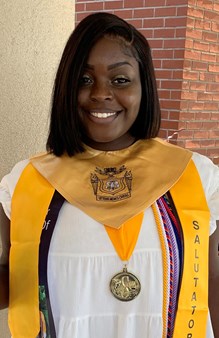 Name: Ariana Hatcher
High School: Butler High School (Richmond County)
College (Current or Future): The Women's College of Brenau University
Major/Intended Major: Biology/Biochemistry (Pre-Med)
Financial Aid Program: Dual Enrollment
Ariana Hatcher, the 2021 Butler High School salutatorian, used Dual Enrollment to reach the educational goals she strived for.
"I attended a wonderful high school, but I do feel as if resources are limited," said Hatcher. "It's no fault of the school because they can only do what they can, but I feel as if my knowledge of certain topics could've been expanded."
According to the Butler High School salutatorian, the expansion of her education was thanks to, "never-ending support from everyone," including her guidance counselor Alicia Rocker.
"They never questioned my goals or the steps I took because they knew it was all in line with my purpose. They allowed me to be who I am," said Hatcher, who is planning to attend medical school as a Biology/Biochemistry major. "Most importantly, whenever I came to them, they tried to help with whatever it was no matter what it meant."
In this case, it meant introducing her to classes at Augusta Technical College, allowing Hatcher to explore advanced academics as well as experience college life. All of this provided a first-hand understanding of the entire postsecondary process.
"It allowed me to be a step ahead in my college journey," she said, "because I will not have to take certain courses because the credit has already been fulfilled."
Gaining a couple of college credits may not seem that big a deal; but when you double the cost of college for any household, every little bit is important.
"My mother is responsible for four children, including my twin brother and myself. So imagine having to fully support sending two children to college at the same time," said Hatcher, who recalls the obvious elation in her relation upon receiving information about her qualification. "I was glad that all of my hard work throughout high school had paid off."
It has resulted in enrollment in the The Women's College of Brenau University Honors Program, a close-knit community that Hatcher is looking to taking full advantage of going forward.
"I once had a horrible experience attending a high school where I was just a number, or at least that is how it made me feel," she said. "I know that Brenau will care about me as a student and a future oncologist."