Guy Gober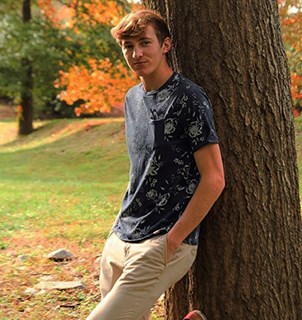 Name: Guy Gober
High School: Rabun County High School
College (Current or Future): University of Georgia
Major/Intended Major: Agricultural Engineering/MBA
Financial Aid Program: Zell Miller Scholarship
With the awareness of environmental conservation, Zell Miller scholar Guy Gober wants to invent alternatives for sustainable energy. Since his childhood in his hometown of Rabun County, Gober has enjoyed exploring the woods and appreciating the natural beauty of the Blue Ridge Mountains. His close relationship with nature has led him to consider a path towards a greener future.
Gober's dream is to envision products that use environmentally friendly materials and structures to minimize negative impacts on the planet. He has chosen to major in Agricultural Engineering and pursue an MBA. "I think everyone has an altruistic drive to make humanity better, mine tells me that I should become an engineer. My endgame is to create plans for renewable electronics, building biological batteries that would allow us to power our phones, cars, etc. in a sustainable way," said Gober.
"Humanity demands are increasing, but innovation will outweigh our massive growth."
Gober learned about the Zell Miller Scholarship program through his sister and his counselors. "The Zell Miller scholarship opened up a world of opportunities, my parents couldn't afford to pay for most of my college tuition," said Gober." Without the Zell Miller Scholarship, it would have been incredibly difficult for me to go to school without accumulating massive debt." The Zell Miller Scholarship has enabled Gober to attend the University of Georgia in an affordable way and further his education.
During high school, Gober participated in the National Honor Society, Envirothon, and Georgia 4H. His proudest accomplishments include running and winning state championships. Gober's inspiration is motivation from running. "I think humans need a driving force against them to motivate them to take action, you need something to be against if you're for something," said Gober. I find my motivation and inspiration in my daily devotion to exercise and meditation, but finding your inspiration is specific to you."
Gober's advice to prospective college students is to choose an environment of familiarity or comfort and to seek out close, personal tours from acquaintances or family members. "Choose a place where you know you're going to be happy," said Gober. "As much as a website can tell you or a campus-sponsored tour can show you, the best kinds of tours you really get at a college are from a sibling or a friend who shows you their side of the campus life."