Benjamin Olson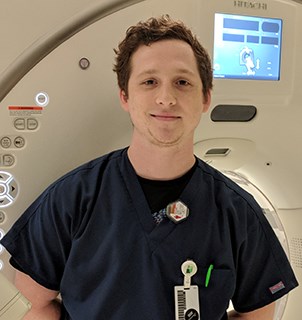 Name: Benjamin Olson
High School: Islands High School (Chatham County)
College (Current or Future): Ogeechee Technical College
Major/Intended Major: Radiologic Technology
Financial Aid Program: HOPE Scholarship
A hospital operating room (OR) in action is full of people helping to save lives. When Ben Olson's mother shared stories with her son about her time as an OR nurse at Memorial Health University in Savannah, he was captivated.
"I was immediately interested in stepping into a serious operation and being the eyes of the surgeons throughout the procedure," said Olson. "I entered into the Memorial Health Job Shadowing opportunity in 2016, my first year at Ogeechee Technical College (OTC), and spent time working hands on with the technologists there and immediately fell in love with the profession."
A Computed Tomography (CT) technologist uses scanners to produce cross-section images of patients' internal organs and tissues for the diagnosis of medical issues. Olson's passion for the field was noticed by Jan Martin, the Radiologic Technology program director.
"During his first semester in the Radiology program, the department manager (at St. Joseph's/Candler Hospital in Savannah) contacted me searching for a student that would be interested to work as a student assistant to the CT technologist," said Martin. "Ben was my first and only choice. He had the drive to be a great employee."
During that first semester at OTC, Olson learned about the HOPE Scholarship from, "a few classmates that had already received it. HOPE gave me the opportunity to focus solely on my studies with little to no worry of how to make a payment for the upcoming semester's tuition. It gave me mental relief and financial stability during the hardest days of my program of study."
Those hard days paid off when in December, Olson received the Academic Achievement award of Excellence at a pinning ceremony for the OTC Radiologic Technology Class of 2017.
"The award comes from our accrediting agency the Joint Review Committee on Education in Radiologic Technology and is presented to the student with the highest program GPA," Martin said. "Ben achieved and maintained a 4.0 GPA (and it's) been several years since we have had a student to maintain a 4.0 GPA throughout their college career."
During his stellar college career, Olson maintained his position at St. Joseph/Candler. He passed the national certification exam through the American Registry of Radiologic Technologists and a bidding war ensued for his services.
"Another clinical facility wanted him to come work for them," Martin said. "When the department manager at St. Joseph/Candler Hospital learned about this, she assured him that he would have a full time position upon graduation and asked him to not take the other position."
Thanks to the HOPE Scholarship, Olson is in the position he set out for with minimal college debt. His advice to younger Georgians is to stand strong and never quit on your dreams.
"Have a plan of action and stick to it, no matter how hard the road may be," Olson said. "Go into college with a goal and do everything in your power to achieve this goal. Even when you have doubtful thoughts that you cannot achieve what you set out to do, hold strong and it will pay off in the end."