Student Newsroom
USG to Waive ACT, SAT requirement for Fall 2022
The University System of Georgia (USG) recently announced they will temporarily waive test score requirements for the Fall 2022 school year at 23 of the 26 USG institutions.
The temporary waiver does not include applicants to Georgia College & State University, the Georgia Institute of Technology, and the University of Georgia.
The remaining institutions within USG will have two options to make admission decisions:
Use existing freshman index that includes test scores for either the SAT or ACT.
Allow students to apply for Fall 2022 admission without submitting ACT or SAT scores. Students must still meet all other admission requirements, including adjusted minimum grade point average eligibility thresholds for each USG sector, which are as follows: 3.4 for research universities, 3.2 for comprehensive universities and 3.0 for state universities. State colleges have open admission policies and accept all qualified applicants.
Students who have SAT/ACT scores may still submit them, and test scores are required to apply for Zell Miller scholarships. The test optional path is not available for Dual Enrollment. Students applying for Dual Enrollment must still meet existing admissions requirements.
REACH Georgia mentors making strides with Scholars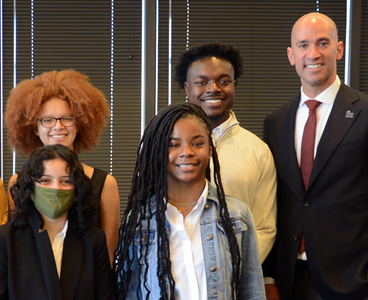 REACH Georgia recently celebrated its 10-year anniversary, honoring the more than 3,000 scholars that have taken advantage of the state's first needs-based mentorship and college scholarship program.
The program has committed more than $36 million in scholarships and while the money is important, the scholars all rave about another aspect.
"I don't think I would be on pace (without) meeting with my mentor, my counselor every month, talking about my goals and my future," said Sam Babdele, a REACH Scholar now attending Georgia Tech. "It was good sitting down with someone I became really comfortable with. I still talk with her to this day."
Every school system has committed to providing scholars with a caring adult mentor who is recruited, trained, supported and monitored to ensure scholars are supported.
"I was very close with my mentor," said REACH Scholar Myla Williams, a sophomore at Georgia State. "She was especially helpful during my college application process and applying for additional scholarships. When I couldn't get into contact with someone, she was always one call away."
"The biggest help was always knowing there was someone who had my back."
Mentors aim to meet with scholars a minimum of eight times per semester, but many end up increasing their interactions to assist the student as best as possible.
"I knew what I wanted to do, I just didn't know how to get there," said REACH Scholar Phaedra Coleman. "I ended up getting my mentor (and she) ended up being a mom to me.
"She provided care for me, pushed me to do my best and got me to Georgia Tech."
Coleman is not the only Scholar who's been assisted by their mentors after school or at home, which speaks to the program's mission to ensure low income academically promising students have the academic, social and financial support to graduate high school.
"As a first generation student, I didn't really have anyone to talk to about the college process. REACH helped to fill that gap," said Alexsandra Casanova-Chavez, a freshman at Georgia Tech. "I was interested in cyber security and there were no clubs at my high school about it. My REACH mentor helped me look further and I eventually started my own club at my high school."
Olivia Vaughn recalls the time before graduating from Crawford County High School, how her selection to REACH influenced her and her classmates and has put her on a path to repeat the cycle of assistance to others.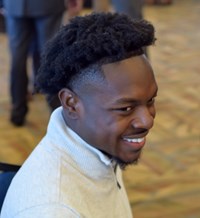 "It's helped with learning how to encourage others, seeing what a little bit of motivation, a little bit of encouragement can do for a student," said Vaughn.
"How far that can push them and how long they keep that with them has definitely encouraged me to go into education."
Learning about the numerous options available to further their education is only part of becoming a REACH mentor. It's also sharing life experiences and expertise with a young person and watching them succeed.
"It kept me on track," said Babadele, "and helped guide me to where I am today."
REACH Georgia's Scholarship programs are locally grown and operated. For more information about how you can get involved, contact the REACH Coordinator in your school system of your choice.
Award Recipient - Olivia Yaughn
Training Opportunities
Remember, GSFC's outreach staff is available year-round to conduct FREE training's, workshops and information sessions across the state of Georgia.
Over the last year, GSFC's outreach team has incorporated online live webinars.
Topics include:
State financial aid programs (HOPE, Dual Enrollment, etc.)
SURFER/STARS
Transcript Exchange
FAFSA Completion
GAfutures.org Overview
Visit the Outreach module to learn more about the GSFC's outreach team what services are provided.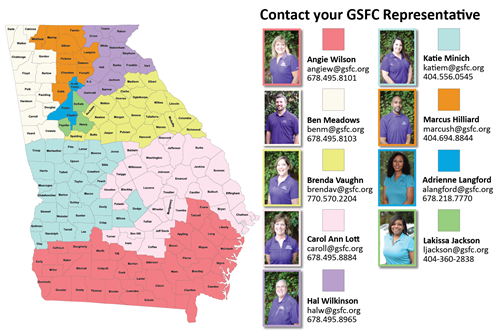 Contact your outreach representative to schedule your training, or contact our offices:
Phone: 770.724.9000 Toll Free: 800.505.GSFC
K -12 email: outreach@gsfc.org
Postsecondary email: SAS@gsfc.org