Decenter Obeng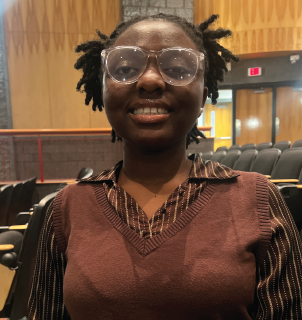 Name: Decenter Obeng
High School: Banneker High School (Richmond County)
College (Current or Future): Georgia Military College
Major/Intended Major: Anesthesiologist (Pre-Med)
Financial Aid Program: Dual Enrollment
Dual Enrollment provides Georgia students the opportunity to begin their college academic career while still in high school.
"I got to experience what is like to be a college student," said Decenter Obeng. "I learned a lot from my professors, and it made prepared for college life."
Behind a desire to 'help others', Obeng has used Dual Enrollment to further her plans of becoming an anesthesiologist.
"Taking dual enrollment classes at Georgia Military College (GMC) was a transformative experience for me," said the Banneker High School senior. "I had the opportunity to delve into college-level courses, which not only challenged me academically but also provided valuable insights into my future career path."
Obeng's future plans have also been shaped by her time with HOSA (Health Occupations Students of America) while at Banneker. Georgia HOSA started in 2000 and creates student leaders excited about healthcare.
"HOSA has served as a stepping stone, shaping my dedication and enthusiasm for the medical profession," said Obeng. "The exposure to real-world medical scenarios and interactions with experts in the field significantly influenced my decision to pursue a career in anesthesiology."
Obeng's career path means high-level college courses in both medicine and science. Dual Enrollment allowed her to attend GMC without worrying about the standard tuition, mandatory fees and required book costs. The experience allowed Obeng to prepare for her desired future.
"Through these (GMC) classes, I honed my critical thinking skills, improved my time management abilities, and learned to navigate a college environment," said Obeng. "Moreover, interacting with my friends from school and engaging with knowledgeable professors enhanced my communication skills and broadened my perspective.
"This experience not only prepared me for the rigors of higher education but also instilled in me a sense of discipline and determination that I believe will serve me well in my future endeavors."