Folasadé Logan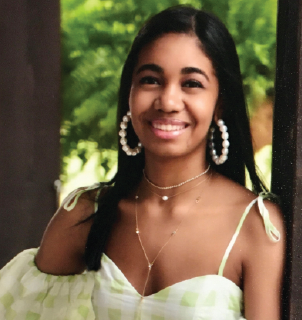 Name: Folasadé Mia Logan
High School: A.R. Johnson Health Science & Engineering Magnet School (Richmond County)
College (Current or Future): Augusta University
Major/Intended Major: Biology
Financial Aid Program: Dual Enrollment
Folasadé Logan's plans for the future include a medical degree; her expected acceptance to graduate school after earning a BS in Biology. However, the foundation for this started once she learned about Dual Enrollment.
The guidance counselor at A.R. Johnson Health Science & Engineering Magnet School in Augusta introduced her to programs and representatives from Augusta University, Augusta Technical College and Georgia Military College. Logan took advantage and suggests students across the state do the same.
"Don't be afraid to take college classes," said the 2021 graduate. "You will see that (Dual Enrollment) will not only give you a jump start but it will also boost your grade point average (GPA) even more as you finish high school."
Logan took all honors courses during her first two years of high school, then spent the next two years taking courses at Augusta University. When handed her high school diploma this past May, she was already well on her way towards her next diploma.
"I had 29 college credits of CORE classes under my belt," said Logan, who enrolled at Augusta University this fall with the Zell Miller Scholarship. "This has saved my mother thousands of dollars that will be knocked off my education expenses.
"With Dual Enrollment, I was able to pick classes for this semester at a level higher than what most of my peers are taking right now. I don't have any doubts about the path I'm taking toward becoming a surgeon."
Medical school can be expensive, but Logan's motivation to become a surgeon was fortified thanks to a volunteering experience with Habitat for Humanity prior to the global pandemic.
"Volunteering definitely increased my self-confidence and the exposure strengthened my desire to serve others. I can truly say it is fulfilling to serve the community," said Logan. "There is a low percentage of female doctors compared to male doctors in the US and less than 5% of all doctors in the US are Hispanic.
"This is my motivation, to increase the percentage for both females and Hispanics."