12th Grade - Fall Semester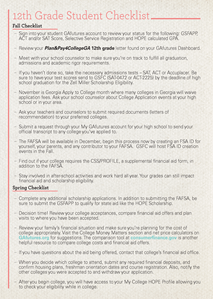 You've reached your senior year and the finish line is within sight. Avoid 'senioritis', a drop in motivation and, consequently, grades, that is sometimes experienced by seniors. The best medicine for this affliction is hard work and concentrating on your future. Speaking of which, don't forget to save your money. Check out the Net Price Calculator to get an estimate of what it will cost to attend the college of your choice.
Check your HOPE GPA to ensure you remain on track to be eligible for the HOPE Program. 
Review the graduation requirements, as well as the admissions requirements of the colleges you are considering.
Some colleges require the CSS/PROFILE, a supplemental financial aid form, in addition to the Free Application for Federal Student Aid or FAFSA. Find out if your schools will need this supplemental form.
Check your schedule to make sure you are enrolled in the appropriate classes that make sense for your plans after high school.
If applicable, make military contacts (check your

 

selective status

 

for financial aid purposes).
Check your transcripts to make sure you are on track to have all the credits you need to get into the colleges that interest you.
Register for the October/November SAT I, SAT Subject Test and ACT tests. Register to take ACCUPLACER if you plan to attend a school within the Technical College System of Georgia.
Take another look at your list of colleges, become familiar with the application process, double-check the deadlines and make sure they still satisfy your requirements.  It's not uncommon for students' goals to change as they get closer to graduation. 
Give any recommendation forms to teachers, school administrators, counselors and mentors with mailing instructions. Make certain that your portions of the forms are filled out completely and accurately.
Most early decision and early action applications are due between October 1 and November 1. Keep this in mind if you intend to take advantage of these admissions options and remember to request that your high school send your official transcripts to the college on time.
If you are planning to attend college in the fall, complete the FAFSA, which is now available October 1. Filling out the FAFSA is the first critical step in applying for federal and state grants, loans and scholarships to help pay for college.
Make a final list of schools that interest you and keep a file of deadlines and required admission items for each school. Many students like to have a "dream school" and a "safety school" as well as two or three others.
Take the SAT or ACT tests. Have the official scores sent by the testing agency to the colleges or universities that have made your final list of schools. Register for SAT I or SAT Subject Tests in December or January.
Get started on any essays to be included with your applications. Give your essays to others (teachers, parents and friends) for feedback.
Attend college fairs. PROBE Fairs are held around the state in October and November.
If you're interested in serving your country after high school, maintain contact with your local military recruiter.
If you completed the FAFSA, you should receive your Student Aid Report (SAR) within four weeks. Make the necessary corrections and return it to the FAFSA processor. 
Participate in Apply to College Month if your school offers it. If you're planning on attending a Georgia school, you can submit your college application online through GAfutures.
If you are applying to schools outside of Georgia, apply through the school's website. Be sure to check your college and financial aid applications thoroughly. Having someone else review with you can help catch any errors.
Continue with college planning. Review and follow significant deadlines and distribute recommendation forms.
Be sure to consult with your school counselor and search for scholarships. Not all scholarships are for top students and athletes. There may be a perfect scholarship for you — it's worth doing a little research.
Check with the financial aid office of schools you are applying to for specific information on scholarships and costs for tuition, fees, room and board, and any additional financial aid information they require.
Submit all applications with January 1 deadlines.
Watch your inbox/mailbox if you submitted an early decision application. Early decision replies usually arrive in December. If you do get an acceptance letter and choose to accept the school's offer, you should withdraw any other applications.
If you haven't already done so, check your graduation status, make sure your official test scores are being sent to the colleges to which you are applying, schedule any remaining required interviews and take the necessary SAT Subject Test, if required for admissions.
Become familiar with resume writing and start thinking about how you're going to spend your summer. Summer is a great time to earn money to help pay college expenses and gain work experience. Ask your counselor about internships, and start researching the summer job market in your area.