11th Grade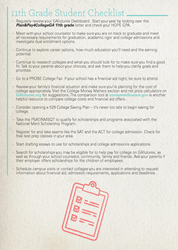 Maintaining your grades during your junior year is important! Colleges will consider the difficulty of your classes and place emphasis on your performance. Some tips for continued success.
It's not too late to participate in Dual Enrollment and take some college-level coursework to earn credit towards both high school and college graduation. 
Now is the time to really focus on your college research. You can look for colleges within Georgia as well as conduct a national college search. Put together a list of your top choices and share with others to determine what's best for you.
Check your HOPE GPA in February to see if you are tracking to be eligible for the HOPE Scholarship.
If you're choosing your senior year classes, look for classes that will give you a strong transcript and fit your college study plans.
Continue your campus tours online or in person. You want to be narrowing down your list of potential colleges. Begin to accumulate information about various colleges, universities and technical schools.
Research scholarships and start applying. Several awards are available for high school juniors.