STEM Weighted Course Directory
The STEM Weighted Course Directory lists the science, technology, engineering and mathematics (STEM) courses, taken Fall term 2017 or later, that have been approved for weighting at HOPE and Zell Miller Scholarship eligible postsecondary institutions. When calculating a student's HOPE/Zell Miller Scholarship GPA, the calculation will include an additional weight of 0.5 to grades of B (3.0), C (2.0) and D (1.0) in these eligible courses. Grades of A and F do not qualify for the additional STEM weight.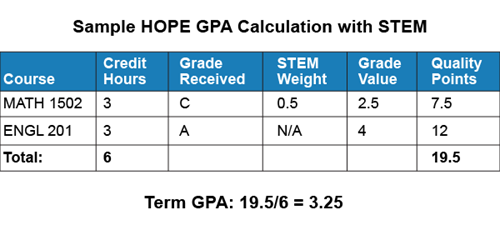 Dual credit enrollment (Dual Enrollment) students who take a STEM course will not receive an additional 0.5 weight for the class to determine their HOPE Scholarship GPA at the postsecondary (college) level because the course was taken while in high school. Students will receive a 0.5 weight for a core dual enrollment STEM course when calculating their high school HOPE Scholarship GPA.