Malcolm Lamont Cooley II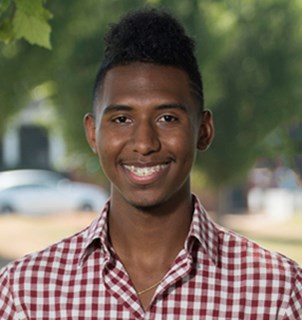 Name: Malcolm Lamont Cooley II
High School: Cartersville High School
College (Current or Future): Georgia Southern University, Georgia State University or Georgia Institute of Technology
Major/Intended Major: Engineering
Financial Aid Program: REACH Georgia
When Malcolm Cooley graduates from Cartersville High School in May, he will be part of the first graduating class of REACH Georgia Scholars. Launched in 2012, REACH is part of the Complete College Georgia Initiative and "rewards students for self-accountability, promotes parent involvement and provides motivation and support," said Governor Nathan Deal.
When REACH launched, Cooley was part of Cartersville Schools Foundation's GateKey Scholarship program. Dr. J. Howard Hinesley is credited with starting the program designed to serve at-risk students and provide them with two-year scholarships to Georgia Highlands College or Chattahoochee Technical College. It also served as one of the models for REACH Georgia.
"I was given a 'bump up' to the REACH Georgia Scholarship by our GateKey/REACH committee," said Cooley, who was one of nine Cartersville City School System students that joined in 2014.
Each REACH Scholar receives $2,500 per year for up to four years at a HOPE-eligible college or university. Cooley is currently undecided between Georgia Southern, Georgia State and Georgia Tech. All three schools are double-matching REACH partners, meaning he could potentially receive $30,000 towards his postsecondary education.
"Receiving the REACH Scholarship has provided me with more options on which college I may attend because it has eliminated the need for student loans for a 4-year college," said Cooley, who is considering pursuing an engineering degree. "It has relieved my family of the financial burden student loans would have placed on them."
While there are many types of scholarships and grants available, Cooley advises younger students not to take anything for granted.
"Don't slack when it comes to grades. Every grade in high school counts. Every bad grade narrows your choices for college," said Cooley. "Don't procrastinate! You will have so much to do your senior year without putting things off to the last minute. There are not enough last minutes to get everything done."
Malcolm Cooley won the REACH Scholar essay contest and spoke at REACH Day at the Capital.