November 2020
November 2020 Edition
What Does GAC Mean To You?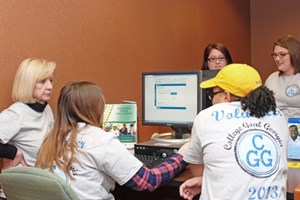 The American College Application Campaign believes the economic health and social viability of a democratic society is determined by the education of its citizens. In simpler terms, this country is only as smart as its citizens. 
Citizens with a college degree are half as likely to be unemployed as those with only a high school degree. To help Georgians handle the complex college application and admissions process, November is Georgia Apply to College (GAC) Month.
The goal is for every senior to complete at least one college application for admission, especially first generation and underrepresented students, as they navigate the process. Students and families have worked hard to reach this point and the GAC initiative is still available to assist with the final push
Whether in person or via a virtual event, GAC representatives are here to help. Check if your high school is participating or find out what's involved with holding an event at your school.
Fill Out FAFSA & Find Money
Increasing completion of the Free Application for Federal Student Aid (FAFSA) is a key initiative in both Georgia and nationwide. Research has shown 90% of high school graduates who filed a FAFSA enrolled in a postsecondary program.
Each year, more than $24 billion of financial aid goes unclaimed. To get this money for college, all one need to do is fill out the FAFSA. Yet year after year, "many students do not complete the FAFSA," said Carol Lott, an Outreach representative for the Georgia Student Finance Commission (GSFC).
GAfutures' FAFSA Completion Data says as of October 24, more than 10% of the Georgia's Class of 2021 has completed the FAFSA. That puts the Peach State well ahead of the national average of just 2% of high school seniors submitting the FAFSA, according to Form Your Future, a national campaign focusing on assisting students from low-income families and those less likely to apply for financial aid.
The Form Your Future motto reads very similar to that of the Outreach team - helping Georgians find affordable ways to pay for college.
"I believe we still have a lot of room for improvement in encouraging and getting students to follow through with FAFSA Completion," said GSFC Outreach representative Angie Wilson. "Many students also wait until the last minute to complete the FAFSA when it should have been done much earlier."
Most colleges distribute student aid on a first-come first-serve basis. GSFC Outreach representatives coordinate with high schools and district coordinators across the state to organize FAFSA Completion events so students and parents receive onsite professional assistance in finishing the form as well as learning more about other financial aid resources.
"When the pandemic hit and schools were shut down back in March," said Wilson, "this closed off a number of opportunities for students to receive one-on-one help with completing the FAFSA."
The help varies from complicated determinations of tax return details, the correct marital status, head of household financial information and, according to Lott, something as simple as remembering how they signed in last time.
"Many students and parents have trouble with creating their FSA ID," said Lott, "and remembering their usernames and passwords."
Wilson completed over 100 FAFSA completion events last year, but the pandemic has cancelled and curtailed public gatherings like these. Some students signed up for virtual appointments, but many failed to enroll altogether. Some due to lack of money, others because they did not know they could.
"Many students believe that they cannot go to college. We need to first encourage students to consider college or technical school a reality for them," Wilson said. "We need to first increase college/technical school enrollment, then FAFSA completion will increase as well."
Outreach representatives provide middle and high schools, colleges, churches, and other community-based organizations knowledge about resources available in order to make college affordable and cost-effective.
Award Recipient: Blakelyn Larkin
On the surface, the early years of Blakelyn Larkin are like anyone else.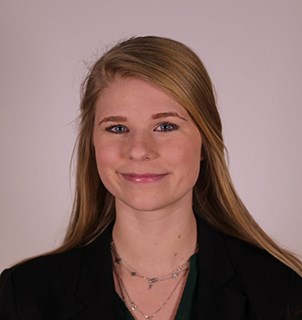 "I enjoyed life and loved to be around people," said Larkin, who was nominated by Athens Technical College (ATC) for the 2020 Technical College System of Georgia (TCSG) Georgia Occupational Award of Leadership (GOAL) student of the year. "I was a big tomboy growing up with three brothers too. I had a great childhood."
But that happy surface was covering a secret that is hard for some to listen to.
"I grew up wearing hearing aids," said Larkin, "and not knowing any sign language."
The Hearing Loss Association of America says people with hearing loss wait an average of seven years before seeking help. Larkin waited 20 years before she was introduced to another person with an issue an estimated 1 in 5 teens experience.
"They helped me to learn sign language and help me accept my identity of being a Hard-of-Hearing woman," said Larkin about discovering her self-described 'Deaf Culture'. "I think it's important for deaf children to know their language and their everyday struggles in a Hearing world."
Since graduating from Madison County High School, Larkin's dream of becoming a deaf educator has been funded by her taking advantage of three different programs under Georgia's HOPE Grant while at ATC.
"I enjoy being with kids and watching them grow in knowledge," said Larkin, who taught a free sign language class and had over 20 ATC students attending her weekly sessions.
President of ATC's Early Childhood Care Education club, Larkin's academic growth can be charted by the grant programs. She started with the HOPE Grant and the HOPE Career Grant, but will finish with the Zell Miller Grant, eligible only to those with a minimum 3.5 postsecondary GPA.
"The best thing is that I saved money and I don't have to be so stressful about getting through college," said Larkin, who was named ATC's GOAL student last January.  "I plan to graduate in the spring with my associate degree (in Early Childhood Care and Education) and then finish my two years at Piedmont College.
"Once I finish, I will become certified to teach deaf and hard-of-hearing children."
A dream achieved with minimal college debt, eliminating the fear of future financial concerns brewing under the surface.
Watch Blakelyn's video on correct ways of communicating with Deaf and Hard-of-Hearing people.
If you would like to share your story about how a GSFC-administered program helped you, fill out this webform or fill out this form and send it to gafutures@gsfc.org.
Training Opportunities
Remember, GSFC's outreach staff is available year-round to conduct FREE training's, workshops and information sessions across the state of Georgia.
Over the last year, GSFC's outreach team has incorporated online live webinars.
Topics include:
State financial aid programs (HOPE, Dual Enrollment, etc.)
SURFER/STARS
Transcript Exchange
FAFSA Completion
GAfutures.org Overview
Visit the Outreach module to learn more about the GSFC's outreach team what services are provided.
Contact your outreach representative to schedule your training, or contact our offices:
Phone: 770.724.9000 Toll Free: 800.505.GSFC
K -12 email: outreach@gsfc.org
Postsecondary email: SAS@gsfc.org