July 2021
Changes Are Coming Soon!!!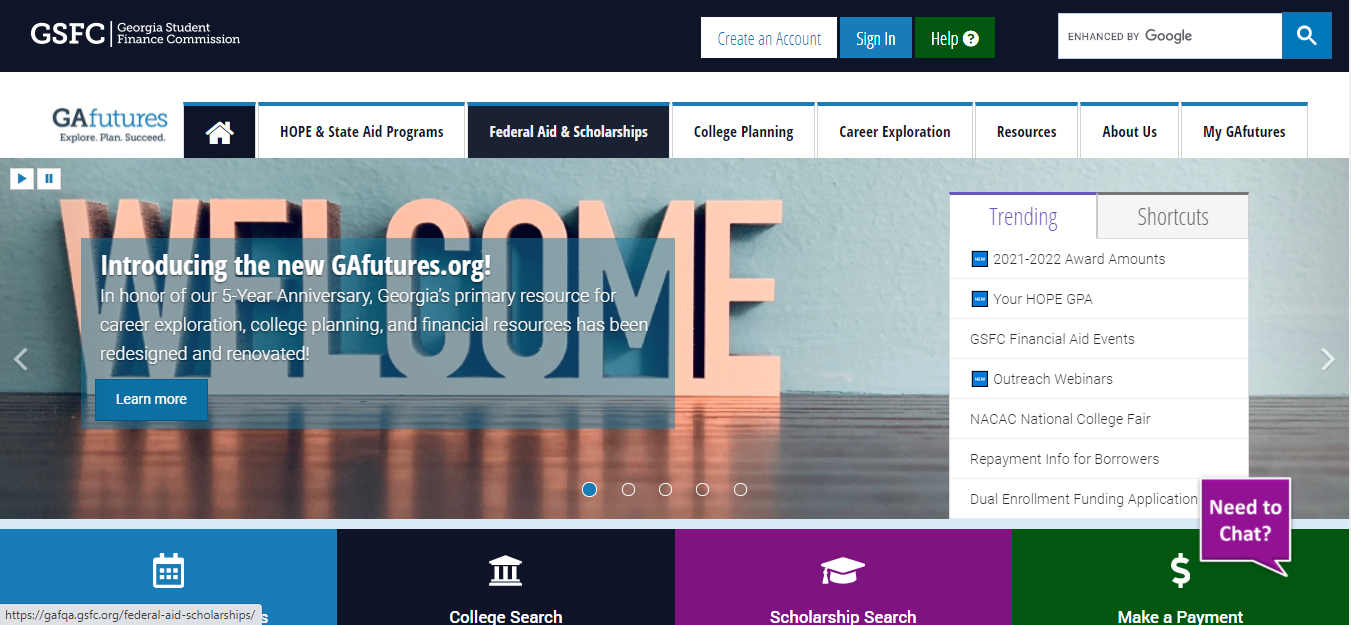 GSFC has been working on an exciting new look for the GAFutures.org website and enhanced features like an improved and expanded National College Search AND Scholarship Search to help students explore the many different types of schools as well as alternate ways to pay for their education.
Speaking of paying for your education, users with an active My GAfutures account will be able to make a payment on their GSFA student loan, upload documents and access the student resource center from one secure location.
To make sure you can take advantage of all the benefits, be sure to check the status of your My GAfutures account by signing in. Don't have an account yet? Simply click on Create an Account and choose which best describes you; Student, Education Professional or General User.
GSFC will continue to release new features on the site and will continue to be Georgia's free online resource helping students and their families with tools and information to plan for, apply to and pay for college.
Award Recipient - Timethius Terrell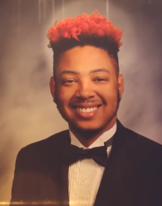 For over a century, a four-foot Golden Eagle anchored the offices of The Telegraph in downtown Macon. The newspaper moved out of the building about a decade ago, but the award in the statue's honor remains.
For over 40 years, the United Way of Central Georgia Golden Eagle Awards has honored high-achieving high school students in Bibb, Crawford, Houston, Jones, Monroe, and Peach County. According to the Golden Eagle Guidebook, seniors are nominated by their schools and then judges by local experts. For the Social Science honor, "Of prime importance is how a nominee utilizes skill, talent and time to benefit his/her school or community."
When he first arrived at Mary Persons High School, Timethius Terrell took the time to introduce himself and befriend students who had immigrated from foreign countries.
"I taught myself Spanish without the help of any established courses," said Terrell, now finishing his freshman year at Emory University. "As I spoke with them, I was intrigued by the ways they saw the world and how deeply they identified with their languages."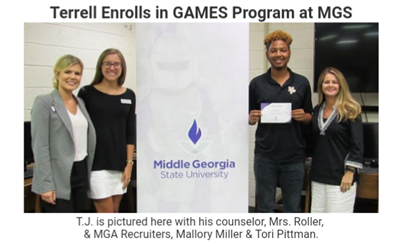 Holly Hamlin and Teresa Roller, guidance counselors at Mary Persons, directed Terrell towards the state's Dual Enrollment program. Starting as a sophomore, he took classes at Gordon State College and Middle Georgia State University (MGA) and was able to study two primary interests: language acquisition and human thought processes.
"I used my linguistic talents to test out of two years of Spanish," said Terrell, "and earned a second Associate's Degree in Modern Language."
His scholastic achievements and commitment to community earned him the 2020 Golden Eagle. It was just one of the many accolades that earned Terrell enrollment to Emory and the Zell Miller Scholarship. However, the foundation of his educational success is linked to "access to academic subjects not available at my high school."
"In addition to enhancing my college applications, I was able to transfer some of the courses I took. Now, I can solely pursue credits that fulfill my personal interests, saving both time and money," said Terrell. "Everything I have accomplished at Emory is a result of the skills I gained as a dual-enrolled student. It all started there."
Training Opportunities
Remember, GSFC's outreach staff is available year-round to conduct FREE training's, workshops and information sessions across the state of Georgia.
Over the last year, GSFC's outreach team has incorporated online live webinars.
Topics include:
State financial aid programs (HOPE, Dual Enrollment, etc.)
SURFER/STARS
Transcript Exchange
FAFSA Completion
GAfutures.org Overview
Visit the Outreach module to learn more about the GSFC's outreach team what services are provided.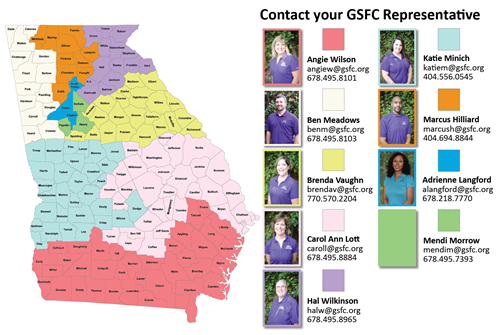 Contact your outreach representative to schedule your training, or contact our offices:
Phone: 770.724.9000 Toll Free: 800.505.GSFC
K -12 email: outreach@gsfc.org
Postsecondary email: SAS@gsfc.org