August 2021
The future is now! GAfutures premieres new look, features
In our ongoing efforts to provide effective tools and information to help students access postsecondary
education, the Georgia Student Finance Commission (GSFC) has developed several new features and
functions on GAfutures.org.
Georgia Student Finance Authority (GSFA) has also redeveloped the Pathways2GSFA.org site for State Student Loan Borrowers to manage their Student Access Loan (SAL) or a service cancelable loan more easily.
Enhancements include:
GAfutures has a new design with subtle changes throughout like a new layout on the front page.
The College Search and Scholarship Search will now be provided by Peterson's educational services
company. Both searches now offer students the ability to save their searches.
We hope these enhancements provide increased usability and satisfaction with GAfutures.org and Pathways2GSFA.org.
As always, we welcome your feedback and input. If you have questions about these changes or others regarding GAfutures.org, please contact Tavis Caldwell at 404.985.4149 or tavisc@gsfc.org
Georgia DPH Provides Guidance For Georgia K-12 Schools    
In August, public and private schools and other institutions of higher education will open across the state with the help of more than $4 billion in federal funding, according to Georgia Public Broadcasting. The Centers for Disease Control and Prevention says vaccinated teachers and students don't need masks as they relax COVID-19 guidelines. 
"We're at a new point in the pandemic that we're all really excited about," and so it's time to update the guidance, said Erin Sauber-Schatz, who leads the CDC task force that prepares recommendations designed to keep Americans safe from COVID-19.
The Georgia Department of Public Health Georgia joined with the CDC to develop Guidance for Georgia K-12 Schools to ensure a healthy and safe learning environment for students, staff and the entire community.
Path2College opens 250,000th account
Both the Henry Herald and Atlanta Journal-Constitution recently reported a milestone for Georgia's college saving plan – the opening of the 250,000th account.
"Education is a vital building block to help our children achieve success," Georgia Gov. Brian Kemp said in a news release, "and we are proud to offer Georgia families a way to help save for continued education."
In our College Money Matters section, you can learn about Methods to Pay for College, like financial aid and tuition payment plans. For more information about college savings plan works, their tax advantages and how the money can be used, visit Georgia's Path2College 529 Plan.
Georgia Schools on Best For Veterans List
The best colleges for veterans have been revealed by Military Times.
Georgia State University ranks No. 6 overall thanks in part to their Military Outreach Center that provides personalized support and a waiver for all mandatory fees for any student serving on active duty, Guard or Reserve.
University of North Georgia, one of only six senior military colleges in the country, was ranked No. 17. Georgia Southern University, ranked No. 53, serves the community of the largest military installation east of the Mississippi River.  The University of Georgia ranked No. 55 in this poll; but was recently ranked the top Military Friendly school among Tier 1 Research Universities for 2021-2022.
All four schools are eligible institutions for the Georgia National Guard (GNG) Service Cancelable Loan (SCL). This program was established to retain skilled citizens in the GNG while assisting them with the cost of postsecondary education. For more information about the GNG SNL, service commitments and the application procedure, visit GAfutures.
Training Opportunities
Remember, GSFC's outreach staff is available year-round to conduct FREE training's, workshops and information sessions across the state of Georgia.
Over the last year, GSFC's outreach team has incorporated online live webinars.
Topics include:
State financial aid programs (HOPE, Dual Enrollment, etc.)
SURFER/STARS
Transcript Exchange
FAFSA Completion
GAfutures.org Overview
Visit the Outreach module to learn more about the GSFC's outreach team what services are provided.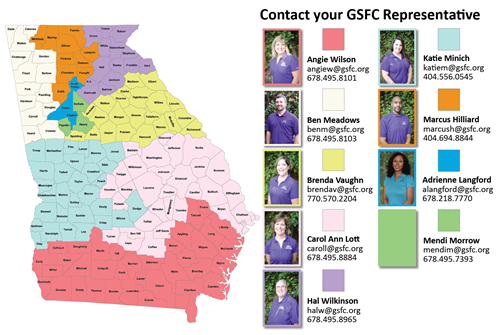 Contact your outreach representative to schedule your training, or contact our offices:
Phone: 770.724.9000 Toll Free: 800.505.GSFC
K -12 email: outreach@gsfc.org
Postsecondary email: SAS@gsfc.org