Repayment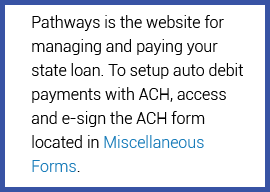 There are three options for repayment of the SAL:
Cash repayment plus interest or,

Student borrowers should set up secure auto debit (ACH) payments with GSFA for their Student Access Loan payments to ensure secure on time payments.
Service cancellation for USG or private postsecondary institution students who work in select public service sectors or,
Loan discharge for TCSG students who graduate with a minimum 3.5 cumulative postsecondary grade point average.
Borrowers' delinquent on loan payments will be referred to a collection agency. Negative credit reporting may make it more difficult to obtain future credit.