Supplies and Materials
Site Coordinator Handbook
The Site Coordinator Handbook is designed to help make planning and holding a Georgia Apply to College (GAC) event as easy as possible. The designated site coordinator is strongly encouraged to review the Handbook and to take advantage of the information and materials it contains. The following are among the items included in the Handbook:
A GAC planning timeline and checklist;
An overview of the various GAC materials;
Sample communications, including a volunteer recruitment letter, a parent/guardian support letter, a volunteer confirmation email and a sample media release; and,
Student Preparation Materials
Guide for Preparing Your Students
The College Decision Guide is a online resource to help participating high schools ensure their students are not only ready to successfully complete a college admission application, but are ready to apply to a college that is a good match for them. The virtual guide can be found on the GAfutures.org website.
The Student Prep Sheet allows students to note those colleges/universities that they have identified as the best match for them and also allows them to capture key pieces of information that are typically requested on an application for admission. By completing the Student Prep Sheet prior to their Georgia Apply to College event, students can be prepared to make the most out of their time participating in their school's event. We recommend that the Student Prep Sheet be used in conjunction with the College Decision Guide. This document has been saved as a Word document to allow schools to customize it to meet their needs.
Event Materials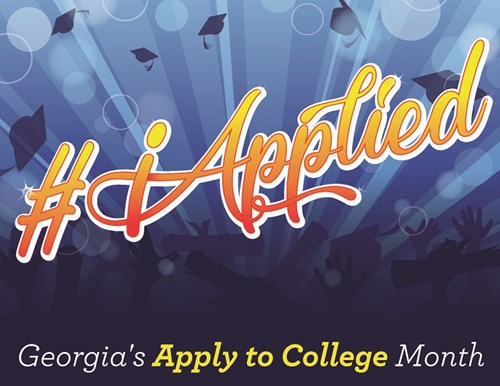 The Georgia Apply to College program is no longer able to provide the buttons, stickers, posters, banners, etc. provided to participating GAC schools in previous years. We are providing the following materials online for use by participating schools. GAC schools are welcome to use any of the following to produce materials to support their event. If you need any of the following materials in a different format, please let us know!
#iApplied Social Media Sign
iApplied Social Media Sign (.pdf)
I Applied
I Applied - Virtual Background (.png)
Each senior participating in your school's Georgia Apply to College event should be provided with an I Applied button prior to leaving their event. The buttons are a way for students to be congratulated on their accomplishment and for them to share with their classmates that they applied to college.
Ask Me About My College
Ask Me About College - Virtual Background (.png)
Ask Me About College - Button (.pdf)
The Ask Me about My College buttons are a great way to encourage conversations about college at your school. The buttons are a companion material to the College Spirit Day activity found in the Site Coordinator Handbook. By wearing the button and hanging the Ask Me About My College signs (found in the Site Coordinator Handbook) outside their door, teachers and staff can encourage students to engage in dialogue about college.
Ask Me I Can Help
Ask Me I Can Help - Virtual Background (.png)
Ask Me I Can Help - Button (.pdf)
Each volunteer supporting your event should wear an Ask Me, I Can Help sticker to let your participating students know that the volunteers are there to assist them as they navigate the college admission process. Each volunteer should be provided a sticker as they check-in for your event.
I'm Going to College
I'm Going to College - Virtual Background (.png)
I'm Going To College - Button (.pdf)
Event Posters
GAC Event Poster (.pdf)
The Georgia Apply to College posters are a great way for schools advertise their upcoming Georgia Apply to College event. We recommend that schools hang the posters around their school about a week before their event to encourage students to start thinking about their participation.
Sign-In/Sign-Out Sheets
The use of the following materials is optional and schools are no longer required to submit the data summary sheet to the Georgia Apply to College office:
GAC Student Sign-Out Sheet (.pdf)
GAC Volunteer Sign-In Sheet (.pdf)
Event Survey
The survey will provide insight about your GAC event and give participates an opportunity to give us feedback.
Tips from Veteran Site Coordinators
Over the years, we have heard from many of you that it would be beneficial for Site Coordinators to have a way to share GAC tips with each other. The following is a compilation of the tips that we have received. Please feel free to send us any tips that you would like for us to share on our website by emailing gac@gsfc.org.
1. Plan ahead. 2. Get support of the administration. 3. Publicize.
Invite your juniors to help assist with the event. They will know what to expect when they are seniors.
Make passes ahead of time for the students who sign up to participate so they won't miss their times.
Have an instruction handout for students with easy to follow steps on how to navigate GAfutures. This will allow students to get started when they come to the computer lab.
The bulletin board signing was great afterwards and we fed them breakfast to celebrate. Food always adds a positive touch for seniors!
It helps if you work with your English teachers and have students graded on some of the activities.
Seek sponsors for t-shirts, food for volunteers, etc. and be sure to celebrate the accomplishments of the senior class (i.e. balloon release, senior college pep rally). Use the Ask Me About My College activity to boost student and faculty spirit. It works!!!!!
We promoted the event by theming the whole week 'College Week'. We had a number of activities in the days leading up to the event.
Plan, plan, plan, and get a good team around you!
Start advertising the event early. Have teachers announce to seniors and talk to them about the application process.
Allow plenty of time for each group. Let students know they can submit later. Don't "over plan." USE THE www.GAfutures.org site to monitor whether your students have an account. Then use it to re-set passwords as needed. I have hosted the event two years in a row, and this last piece of information was the difference between an unsuccessful event (last year) and a successful one this year.
To follow the provided time line and read the handbook! There were so many excellent activities that make the day fun for the entire school community and everything that you need to make the event successful is at your fingertips if you take the time to review it!
Keep it simple the first time around and use a timeline to keep up with the process as outlined.